While the constitution does prevent states from banning same sex marriage, the reasoning used by the SCOTUS is fundamentally flawed. Here is why.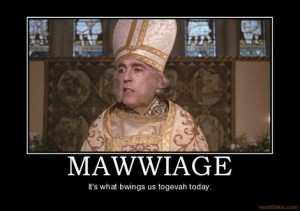 The 14th amendment provides for equal protection under the law. This prevents states from creating laws which discriminate based on characteristics like race, gender, sex, or any other "class". If a state recognizes a marriage contract as being valid if it is between a man and a woman, it must recognize it as being valid if it is between two men or between two women.
Unfortunately, this is not exactly the argument used in the SCOTUS decision, and the argument that it did use is somewhat troubling.
Marriage Rights
Part of the argument relies on the confusion between two different acts: marriage and the recognition of that marriage. Do you have a right to marry someone of the same sex? Yes. Do you have the right to marry as many people as you want? Yes. Do you have the right to have other people or other entities, including government, recognize that marriage? No. That violates what constitutes a right because it involves a possibly involuntary action (thought) by another.
Yet the Supreme Court Justice Kennedy constantly addresses rights in his opinion. In fact, much of his argument boils down to protection of rights, even when the 14th amendment is invoked. It also goes into various other factors which have nothing to do with the constitution at all.
Dignity
For instance, another key point of the Justice's opinion was the concepts of dignity and demeaning conditions. The constitution does not protect dignity. It does not protect against demeaning situations. Working a remedial job certainly is not as dignifying as being small business owner. However, that doesn't mean that the constitution protects against such undignifying situations.
14th Amendment
Now for the proper argument. The 14th amendment contains a clause which essentially governments from creating laws which act on one class of people in a different way from another group of people. In other words, personal traits cannot be used to determine whether or not a law enters into effect. Since states offer marriage contracts, they must do so without using any distinctions such as sex, gender, race, religious affiliation, etc. Bans on same sex marriage specifically look at the sex of those requesting the marriage contract and therefore violate the equal protections clause.
Consider the following excerpt from Strauder v. West Virginia:
It was well known that, in some States, laws making such discrimination then existed, and others might well be expected. The colored race, as a race, was abject and ignorant, and in that condition was unfitted to command the respect of those who had superior intelligence. Their training had left them mere children, and, as such, they needed the protection which a wise government extend to those who are unable to protect themselves. They especially needed protection against unfriendly action in the States where they were resident. It was in view of these considerations the Fourteenth Amendment was framed and adopted. It was designed to assure to the colored race the enjoyment of all the civil rights that, under the law, are enjoyed by white persons, and to give to that race the protection of the general government in that enjoyment whenever it should be denied by the States.
As you can see, the 14th amendment does not provide any form of right. It simply demands that any protection of a right or privilege extended to a "white person" must be granted to a "colored person." Or in more general terms, if one group of people receive a protection of a right or any other privilege from the government, it must be granted to all other citizens.
Two People
Kennedy repeatedly addressed marriage as a union between two people. Now, he may have done this in order to avoid people who use a slippy slope argument against same sex marriage, but his argument is self contradictory because of it. Since he bases much of his argument on dignity, he is saying that two people who enter into a union, regardless of sex, are dignified, but any more than that and the union is undignified. Of course, that is simply his own moral judgement. It has nothing to do with any universal condition or the constitution.
The reality is, the issuance of marriage licenses for polygamous unions is not protected by the 14th amendment because it is not discriminatory. The 14th amendment prevents a law from treating one class of people differently from another, but number is not a class. It is not a personal trait. Therefore there is no discrimination.
Applicability to People
A final note is regarding the applicability of the ruling to people. This is probably one of the most absurd arguments that I've heard to date and it is essentially the argument that the 5th and 14th amendments apply to individuals and to businesses. It's pretty clear that they do not. The 14th amendment extends the bill of rights to the states, but both the 5th and 14th amendment specifically limit what laws the federal and state governments can create.
People and businesses are neither governments nor do they create law. This is clear from the repeated use of the word "state." It does not say that "the privileges or immunities of citizens of the United States shall not be abridged" but rather that "no state shall make or enforce any law which shall abridge the privileges or immunities of citizens of the United States." As for the fifth amendment, the government restrictions from the bill of rights has always been limited to the federal government, which is why the 14th amendment was necessary in the first place.
For this reason, as an example, a person cannot be penalized for exercising his or her first amendment protected rights in public, but if the person is on private property, the owner of the property can demand that the person leave. Being removed from public property would be a violation of the first amendment, but the latter would not be.
Further Reading
1. Freedom and Rights
2. Why I Care So Much About The Kim Davis Case
3. Right to Marry vs Privilege of Recognition – The Implications for a Kentucky Clerk