Liev Shrieber allowed his son to dress as Harley Quinn at Comic-Con. The "conservative" right of course was outraged. Really?! Why were they outraged? It is because he allowed his son to "cross dress."
Seriously, get over it. So the kid put on a woman's outfit for the day. Admittedly Quinn is somewhat sexualized in media. However, women are simply very often sexualized. But even that concern was secondary for most people it seems. Consider this tweet by Ashley Rae.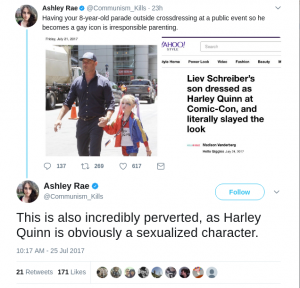 As you can see, she did realize that she should be outraged by something more than a boy dressing as a girl. But it was only an after thought. Now, if there was anything to be outraged at it is not the fact that Quinn is a woman, but the fact that Quinn is a mentally unstable criminal who is clearly suffering from Stockholm syndrome. But you do not see the right mentioning that or being concerned about that. Nope. It is simply a matter of the boy wearing a dress. Oh wait. It's not even a dress. It is a shirt and shorts.
So grow up people. It is Comic-Con. It is COSPLAY. And even if it were simply how the kid wanted to dress, then whatever. If you have no issue with a female wearing that outfit, then you should not have an issue with a male wearing it.