The swastika, from Sanskrit svastika, meaning "good fortune" was, as the translation suggests, not originally a negative symbol, and the Nazis should not be allowed to destroy the symbol for all time. We need to re-appropriate it, or in the case of the Jews, appropriate it.
The swastika, in its various forms, exists in Buddhism, Hinduism, Jainism, is found in art throughout the world, including in Roman mosaics. To view a symbol, which has been used by many cultures, for thousands of years, as negative, because of the actions of a group that have existed for less than a century, and to restrict the usage of it, even by the groups who have a long history tied to the symbol, is a total violation of freedom of expression, and quite literally enforces the tyrannical values of the Nazis.
So it is reasonable to push to have the symbol re-appropriated by those who have been using it. It even makes sense for other groups to appropriate it. This is not totally unheard of. Groups who have been oppressed will sometimes appropriate the symbol of their oppression. Perhaps the most often seen example is the Christian cross. While it literally symbolizes the Roman execution of Jesus, it has clearly taken on a very different meaning.
In the same way, the Jewish people should appropriate the swastika, and turn it from a symbol of hate, back into a symbol of good fortune, or the many other meanings that the symbol takes in various cultures. So long as we continue to automatically equate the symbol to hatred, anyone who uses it will be able to immediately instill in us that thought. If we flood the world with its other uses, then the Nazi meaning becomes dulled and weak.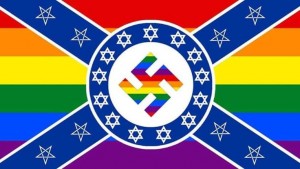 The same is true with many other symbols. That is one of the reasons why one of my favourite images is the "nazi, gay pride, battle flag of North Virginia" image, that's seen on the left. Unfortunately Facebook has deemed it too offensive to allow on their site, even though they allow outright hate speech in other cases. And while refusing to facilitate content distribution is not censorship, biased execution of the TOS, along with a failure to identify the meaning behind images like the flag on the left, make it difficult to properly express the importance of these ideas.